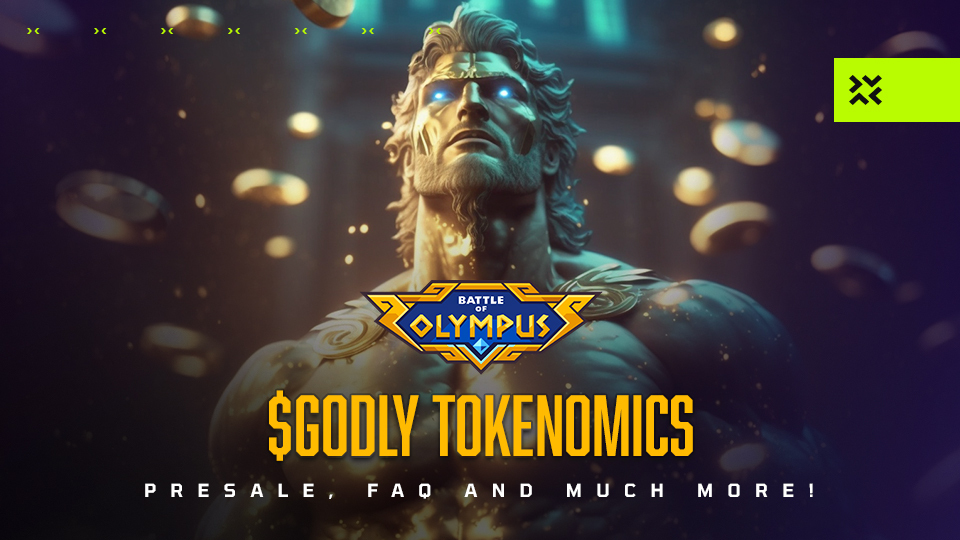 In this article, you will read about the tokenomics of $GODLY token. Tokenomics are a complex, but important topic, so we prepared lots of details to share. Feel free to navigate the article through the following sections:
Introduction
$GODLY Tokenomics
Presale
Frequently Asked Questions
Introduction
The in-game economy of Battle of Olympus will be powered by its own token called $GODLY. In this article, we will present the full tokenomics for Battle of Olympus' premium token, $GODLY, including the presale breakdown, which will provide gamers and investors with everything they need to get in early.
$GODLY Tokenomics
Distribution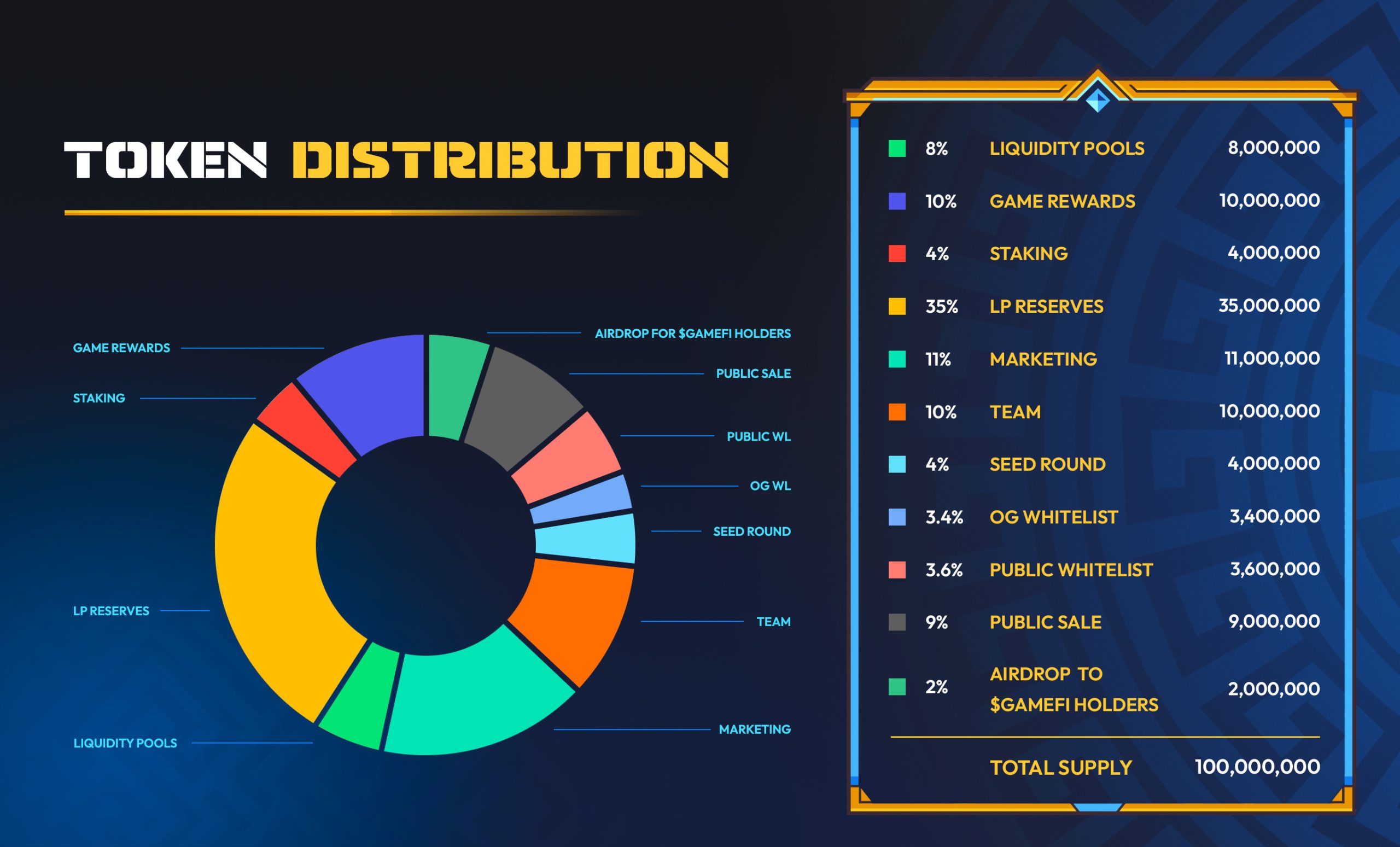 Token sinks
Token sinks are ways to remove a token from circulation. This ensures stability or even upward pressure on the price of a token, which helps maintain its value by reducing overall supply and increasing demand. Token sinks will be a crucial aspect of $GODLY's tokenomics to provide players with as much value as possible while ensuring a sustainable, deflationary in-game economy.
Once we release the PvP gameplay for Battle of Olympus in Q3 2023, the game will incorporate several token sinks to reduce the circulating supply and support $GODLY investors. Some of these methods include:
Loot boxes, which players can purchase with $GODLY
Fees on PVP wagering with $GODLY
Consumable items and boosters players can purchase with $GODLY
Digital collectible purchases, including a special edition Founders Pack
Liquidity
When it comes to investing in a project you believe in, having high liquidity is a key indicator of market stability. Projects with high liquidity are more stable because plenty of buyers and sellers are trading in the market. As such, the price of the asset will be less affected by a single trade.
To ensure that we put $GODLY investors in the best position possible, we will be dedicating a large percentage of the total supply to liquidity divided into two types:
Liquidity pools
Liquidity reserve
Liquidity pools
We will have 2 liquidity pools for $GODLY: one paired with USDC ($GODLY-USDC) and the other with GAMEFI ($GODLY-GAMEFI), Revenant's governance token. 50% of the allocation will go to each pool.
The first pool of $GODLY-USDC will be available upon the public launch of the token. However, the remaining 50% of tokens for the $GODLY-GAMEFI pool will be locked for 1 month until Hermes, our liquidity provider expands its platform to Arbitrum. Following this period, these tokens will unlock and be available to create a new liquidity pool.
Liquidity reserve
The liquidity reserve will deepen the existing liquidity pools over time and stabilize token price action as Battle of Olympus generates revenue. For security purposes, we will hold the liquidity reserve in a multisig wallet that will require four team signatures for transactions. The lock period for the liquidity reserve is 1 month, after which all of it will become available to contribute to the existing pools.
Game Rewards
We have also allocated significant tokens to providing Battle of Olympus gamers with in-game rewards and incentives. However, it's important to note that we will not distribute game rewards following an inflationary, play-to-earn perspective.
Although you will earn rewards as you progress through the game, it will not come at the expense of your enjoyment or the project's sustainability. Battle of Olympus will balance financial incentives and player enjoyment to attract and retain players, leading to a more sustainable in-game economy. Simply put, rewards are a bonus rather than the primary reason for playing the game.
The game rewards tokens will be locked for 8 months to provide enough time for the version of Battle of Olympus which includes its in-game economy based on blockchain elements, to be released. After this time period, we will unlock the tokens and prepare to incorporate them into the Battle of Olympus in-game economy for players to earn rewards. These tokens will not have a significant focus until the end of 2023 since they will not be distributed or used until the game is launched.
We will distribute these rewards over many years and replenish them over time with revenue generation. Players will earn several rewards while playing Battle of Olympus, including $GODLY for significant milestones throughout the game, such as winning tournaments and seasons or reaching top positions on the leaderboards.
Staking
To provide early investors with a way to generate yield on their tokens, we will make a $GODLY staking pool available at launch. Furthermore, this method also encourages investors to hold their investment, continuing to improve price stability.
Staking emissions will be vested for 12 months, meaning they will be distributed over the course of a year. Since we will complete the full version of Battle of Olympus within a year, the time it takes for investors to receive all the yield from the staking pool will line up with the launch of revenue generation for Battle of Olympus.
Marketing
We will use the marketing budget for partnerships, collaborations, and other growth opportunities that benefit $GODLY investors and Battle of Olympus players. These tokens will be vested over 36 months. We will not necessarily use the marketing budget every single month and decisions to spend it will depend on team priorities.
Team
The team tokens will be locked for six months, after which they will be vested for 24 months. This incentivizes the Battle of Olympus team to hold their $GODLY and encourages project growth with a long-term vision, which has not always been prevalent throughout Web3 gaming.
$GAMEFI Airdrop
Since Battle of Olympus is part of the Revenant decentralized gaming ecosystem, we want to create a way to incentivize a connection between these overlapping communities. As such, we have allocated a conservative number of tokens for monthly random airdrops to $GAMEFI holders. These tokens will be vested over 12 months.
Presale
The $GODLY presale will include four rounds of investment before its public launch:
Seed Round
OG Whitelist
Public Whitelist
Public Sale
Each round of investors will begin to receive their tokens 1 day after the token generation event (TGE) over a 1-week vesting period. In addition, following the TGE, all funding rounds will be subject to an extended vesting schedule of between 4 to 12 months to receive their remaining tokens.
Seed Round
Seed round investors will receive 12% of their tokens following the TGE over the 1-week vesting period. The remaining tokens will be subject to a 12-month vesting period.
OG Whitelist
OG Whitelist investors will receive 15% of their tokens following the TGE over the 1-week vesting period. The remaining tokens will be subject to a 9-month vesting period.
Public Whitelist
Public Whitelist investors will receive 20% of their tokens following the TGE over the 1-week vesting period. The remaining tokens will be subject to a 6-month vesting period.
Public Sale
Public Whitelist investors will receive 20% of their tokens following the TGE over the 1-week vesting period. The remaining tokens will be subject to a 4-month vesting period.
Frequently Asked Questions
What is the relationship between $GAMEFI and $GODLY for investors?
$GAMEFI is Revenant's governance token, while $GODLY is Battle of Olympus' premium currency. The two tokens serve different purposes.
On one hand, $GAMEFI is akin to an index and as the parent organization, it provides various products and services, such as games like Battle of Olympus, Revenant Launchpad, and Revenant Marketplace. Investing in $GAMEFI is an excellent way to get general exposure to a broad ecosystem.
On the other hand, $GODLY has tokenomics designed specifically to serve the Battle of Olympus gameplay. From an investment perspective, it is a concentrated bet. It will have a much smaller market cap at launch, including many more specifically designed token sinks. We are optimizing $GODLY around gameplay and feedback loops for value accrual based on the game.
Therefore, while $GAMEFI holders will benefit from the success of $GODLY, $GODLY holders have a much more direct and concentrated form of exposure.
Why are the liquidity pool tokens included in the presale circulating supply?
Traditionally, projects do not include the liquidity pool in the presale circulating supply. However, since $GODLY will not have any unlocked tokens at TGE we decided to include it.